Release final version OCPI 2.2

Today the final version of OCPI 2.2. is released. With this, previous improvements from test version RC2 have been finalized. The most important improvements compared to OCPI 2.1.1:



This version is also getting better implementation support, Swagger files will be available within a couple of weeks. Join the community to get the latest information when available.

With this OCPI release, operators and service providers can improve the access to charging infrastructure, with better information about location, availability and cost of charging and with more transparency of the transactions. EV drivers benefit directly.

Simplify, standardize, harmonize
The open and independent roaming protocol OCPI aims to simplify, standardize and harmonize the EV market. Roland Ferwerda, on behalf of the OCPI-board: "We are very proud of the fact that increasingly, OCPI is the standard for Europe and North-America. Over the years many companies have joined in, implementing OCPI for a better roaming experience for their customers. This could not have been done without the help of a very committed OCPI Community and the input of projects like ECISS and transnational collaboration EVRoaming4EU. This final version of OCPI 2.2 is a milestone for all of us."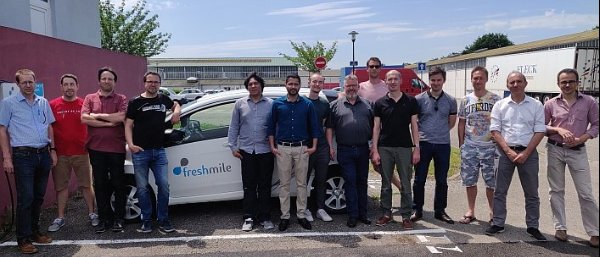 Milestone: community-driven co-production
With this final version of OCPI 2.2, a milestone has been reached, to which the community has been working since 2016. Michel Bayings, Project Manager: "This is an important step that we have all taken together for an independent, widely supported protocol. The protocol is truly a co-production, community-driven. Stakeholders from different countries in Europe, from USA and Canada are committed to further improving OCPI, with this great result."
Picture taken at community-meetup last june
Increasing number of implementations OCPI worldwide
Widely supported protocol

The OCPI-Community is also growing steadily. More than 200 participants have already joined. Of these, almost 50 have signed an IPR policy and Contribution Licence Agreement, in which they actively contribute to the development of OCPI.
OCPI 2.2 is an important step forward. Nevertheless, the community is already looking ahead, because developments in this field are progressing rapidly. Responding to these developments remains important. OCPI continues to evolve.
Help us further develop this internationally used open and independent protocol. Everyone is free to join.
Many companies already implement OCPI, support it or participate actively in its development. These include:

Allego, BeCharged, Blue Corner, Blue Current, BMW, Creos, Chargepoint, Easytrip (KiWhi), e-Clearing.net, ELECTRIC 55 CHARGING, E.ON, eMobility Consulting, Eneco, Enervalis, ENIO, EVBox, eViolin, EVNetNL, FLO, Freshmile, GIREVE, Greenflux, Greenlots, iHomer, Jedlix, Last Mile solutions, Movenience, Multi Tank Card, Next Charge/Go Electric, Next Green Car, Nuon, Open Charge Map, Open Fast Charge Alliance (Sodetrel, Fastned, Smatrics, Gronn Kontakt and Gotthard Fastcharge), Oplaadpalen.nl, Place to plug, Plugsurfing, Stromnetz Hamburg, The New Motion, Travelcard, XXIMO, and many others.


The Netherlands Knowledge Platform for Charging Infrastructure (NKL) facilitates and coordinates this project to guarantee progress and ensure development and results.
NKL Nederland
Vondellaan 162
3521 GH Utrecht